Troy Donahue trivia
In 1962 Troy was the subject of Andy Warhol's first celebrity portrait, and also his first-ever silkscreen. Inspired by a publicity photo, the Warhol work reproduced oval-shaped multiple images of Troy, sparking debate about its meaning. Some critics maintained the ovals represented lovers' lockets, while another said they depicted Troy as a commodity, "like so many cans on a shelf". In 2001, the portrait's estimated worth was $140,000 to $180,000.
---
Troy met his girlfriend, Zheng Cao, on a Holland-America cruise in October 1991 where she worked as a singer and he held acting workshops. She was with him to the end. "We're very serious, very committed to each other," he said in 1998. "It's the greatest relationship I've ever had in my life."
---
In Francis Ford Coppola's The Godfather Part II (1974), Troy played a character called Merle Johnson, his real pre-Hollywood name.
---
The Simpsons tv show in the 1990s featured a regular character called "Troy McClure", an amalgamation of sixties' screen idols, Troy Donahue and Doug McClure.
---
Guests at the Troy Donahue / Suzanne Pleshette wedding in 1964 included Rock Hudson, Richard Chamberlain, Anne Helm, Inger Stevens, Connie Stevens and Robert Conrad. The bride and groom chose Moon River for their bridal waltz.
---
The title song behind the credits on Palm Springs Weekend was sung by Troy. The movie saw the debut of Tina Cole in an uncredited role.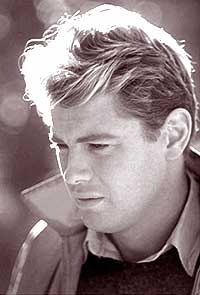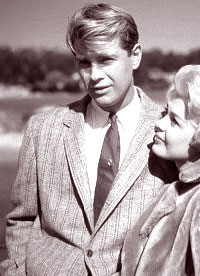 Troy made his stage singing debut playing Harry MacAfee during a sell-out tour of Bye Bye Birdie in 1998. He received rave reviews. "It was a thrill to see [him] in person," said namesake Troy Espe, entertainment editor of The News Herald. "Donahue makes it a gas ... because it's about what he once was: a teen idol."
---
In 1958, 'TEEN' magazine (with a 25c cover price) ran a 4-page pictorial of Troy, with his Summer Love co-star, Judy Meredith, teaching readers the latest dance, rock 'n' roll! You'll find photos and a transcript of the article via this link.

"I am not gay," Troy told People magazine in 1984. "Once in a while people get me confused with another blond, blue-eyed actor who was around at the same time, but it's no big deal. I love women. Sometimes, I guess, too much."
---
Henry Wilson, the movie agent who devised the pseudonyms "Rock Hudson" and "Tab Hunter" for two other Hollywood hunks, also came up with the moniker "Troy Donahue".
---
Troy's screen debut in 1957's Man Afraid was brief. He played a young thief who gets killed in the movie's first few minutes.
---
Along with Tab Hunter and Michael Landon, Troy was considered for the lead in the hit tv series, The Many Loves of Dobie Gillis, a role that eventually went to Dwayne Hickman.
---
Troy was married to Suzanne Pleshette for nine months in 1964; Valerie Allen 1966 to 1968; and Vicky Taylor 1979 to 1981. He had two children - daughter Janine and son Sean, now adults - and three grandchildren.
---
Troy's stalwart friend, Connie Stevens, visited him the night before he died. "He was full of hope and trying his best," she said later. "I had never seen him happier, never more at peace with himself."
---
John Waters - one of Hollywood's most unconventional independent film-makers - has released a book, Director's Cut, in which he uses photographic images to "redirect" some of his favorite movies, including the Troy Donahue-Connie Stevens classic, Susan Slade.